Facebook Advertisement Services
Facebook advertisement services help the company grow its online follow-up, raise brand value, and boost its lead generation and profitability activities with the world's largest social media platform.
Boost your ad spending with the help of our advertisement services on Facebook
What is one of the best ways for your target audience to meet you? Via exposure on social media, of course! Ad campaigns on Facebook help business owners increase brand value, increase lead generation, and increase conversion rates. To build, track, and optimise your Facebook ad campaigns, use our Facebook advertising services. Speak to us today
drive direct traffic
Would you like to attract more traffic back to your website or landing page? It can do just that with a strategic Facebook ad. Getting an engaging ad copy of Facebook marketing strategies will help drive web traffic.
impact leads and sales
When you use Facebook ads, having more leads and sales is simpler. Our Facebook advertisement services can help you maximise conversions for your Facebook advertising.
Increase Allocation
Do not miss those Facebook users who have viewed or shown interest in what you have to share on your Facebook profile. Using Facebook Retargeting Advertisements to remain in front of prospective clients with strong hopes.
Why Does Facebook Ads Matter?
One of the most powerful ways to expand your brand online, be an influencer in your industry, and reach your market objectives is Facebook ads. There are over 2 billion active users on the largest social media network, with users investing multiple hours a week on their website. In the current age, it is still one of the most cost-effective ways of publicity. Using a Facebook ad account, the CPM, or expense per thousand impressions, varies from $5-10. This means you can pay less than $10, basically, and meet over 1,000 people.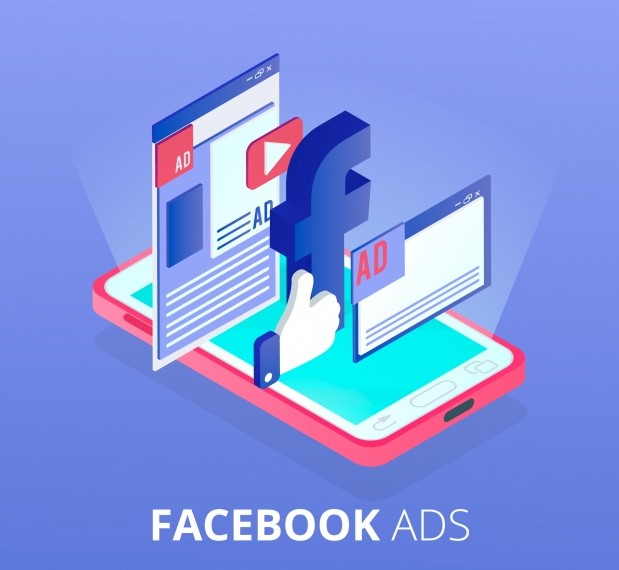 Facebook ads provide the ability for organisations of all types to attract and advertise directly to their target customer. It is also available in various forms of ads, including Dynamic, Carousel, Animation, Slideshow, and more. Monitoring the success of these marketing campaigns with their real-time analytics is a breeze, too.
In a consistent, observable manner, businesses that can incorporate Facebook advertising in their marketing campaign can dramatically expand their business. As a result, Facebook advertising is key to the growth of business owners who want to expand exponentially regardless of what form of business they might have—B2B, e-commerce, and B2C.
Essential figures for Facebook Ads Worth Mentioning
Now that we have addressed the impact of Facebook marketing and advertisement for companies, let us list some figures that will show how much effect this social media site has on your target audience. In reality, despite having new rivals like TikTok and Snapchat, Facebook remains the world's largest social networking platform. And to testify to this, here are the numbers:
Facebook currently has over 2 billion active users per month.
This social media powerhouse is next to Google and YouTube, the 3rd most viewed website in the country.
15% of social media users in the U.S. say they buy on Facebook.
As part of their digital plan, 90 million small companies use Facebook.
The number of views of Facebook ads rose by 33% .
11 FB advertisements per month are clicked on by the regular Facebook consumer.
In the America, Facebook is accountable for 80.4% of e-commerce websites' social referral share.
Facebook posts are read every day by 300 million active users.
There are over 300 thousand active chatbots on Facebook Messenger that are responsible for exchanging more than 8 billion messages between people and brands.
One of Facebook's best aspects is that it helps companies and consumers to discover and communicate with each other. If you run a start-up, a small business or a huge, established brand, it doesn't matter- Facebook users will still be able to communicate in the same way with you. It will all rely on how successful your Facebook marketing plan is and how well you use all the marketing resources of Facebook, such as their PPC advertisements. Our Facebook advertisement services will assist you in that situation.
How our Facebook advertishing services works
Ad Discovery on Facebook
We would need to learn more about you in order to support your company with Facebook ads. This is so we can decide if your future buyers would like their newsfeed to see your brand and how to target them with your ad copies. What makes your industry special, explicitly, and your ultimate promotional targets. We would look at recent promotions to decide what is and what is not if you have run advertisements in the past. By delivering a detailed roadmap that explains how we plan to go forward, our in-house ad experts will complete our exploration process.
Ad Production on Facebook
Starting to build the Facebook advertising is the next move. Our ad creatives will write the Facebook advertisement text, headlines, and explanations that will feature in your advertisements. In your commercials, we can also have imagination, such as high-quality photography or clear graphics to draw eyeballs to your advertising. Prior to going online, you will have the chance to search all deliverables from our Facebook Ads Services.
Optimization for Facebook Ad
When commercials are approved to run, the true magic starts. We will normally launch your campaign with up to 10 ads to start, and by doing a/b testing, we continuously track the success of those ads. As time passes, we continue to see a pattern that emphasises high-performing advertising and low-performing ads within the advertisements. To boost results over time, the experts at our Facebook agency will review the performance data and make adjustments to the campaign.
Monitoring on Facebook
A big advantage of working for a Facebook advertisement firm is that you can rely on having an additional pair of eyes. You do not have time as a company owner to track, eliminate flaws, and refine your campaign. We will handle your Facebook advertisements for you as a part of our service and track them regularly. We're going to monitor your ad budget to do as best as possible to eliminate mistakes.
Reporting via Facebook
Our Facebook advertisement service will send a thorough report to you every month. Your final results will be highlighted in this report to help you appreciate the status of your Facebook advertisement campaign. To ensure we are on the same track, you will also have the chance to chat to us on a biweekly or monthly basis about your campaign.
Ready To Make a Real Change?
Let's Build this Thing Together!